Dog Trainers Tennessee – Midway Dog Academy
The School For Dogs!
---
Featuring The EZ-Leader™ Method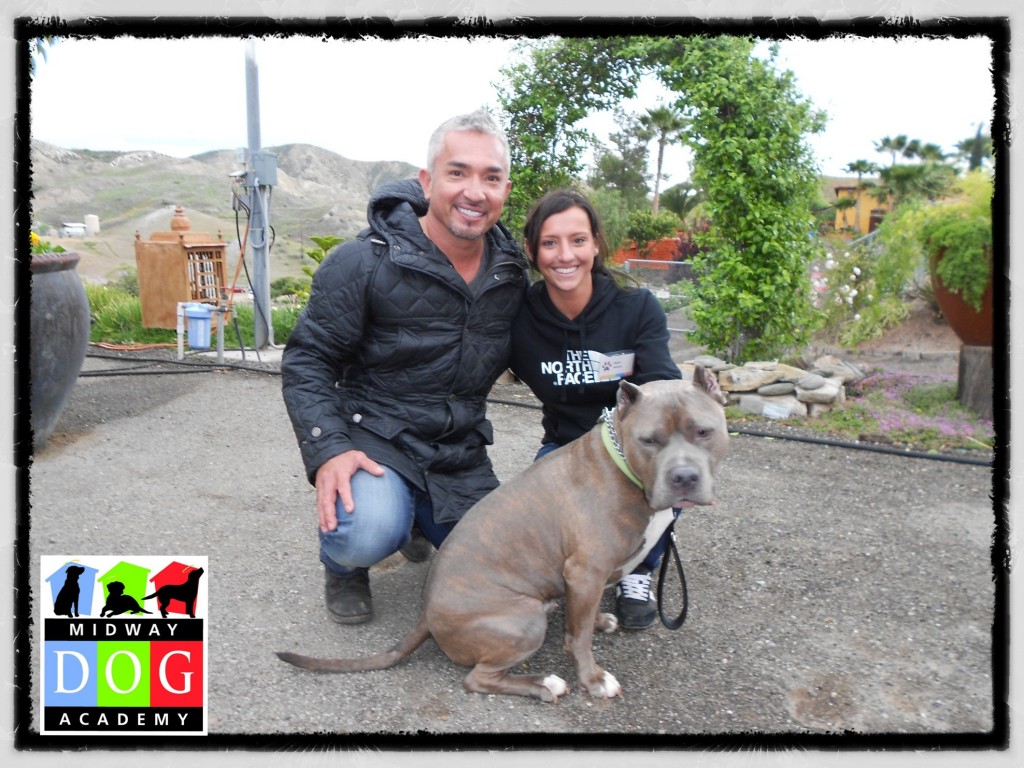 Tyson and Megan – with Cesar Millan (The Dog Whisperer) at his Dog Psychology Center
---
          
---
The specialized dog training at Midway Dog Academy uses your dog's natural pack member instinct to create a healthier, happier, more balanced animal. With proper dog training, your dog can reach its full potential. Our unique training programs will help your dog re-establish its natural order – your dog will learn to socialize with other dogs and become a healthy family companion.
At Midway Dog Academy, we care deeply about the well-being and happiness of your dog. We know that no two dogs are the same, so we customized our programs to individually address their needs. Prior to taking part in any dog training activity, your dog will receive a FREE evaluation from one of our training behavioral specialist. Based on this evaluation, we'll develop realistic goals for you and your dog.
We know that dogs have a natural, genetic drive to function within packs, like their wolf ancestors. Even if you have only one dog, you and your family become the "pack"; and therefore play a very important role in your dog's daily life. That's why at Midway Dog Academy, we help re-establish the natural pack mentality of your dog by encouraging proper socialization and interaction with other dogs. Because dogs are natural pack animals, we can accelerate their learning by training them with other dogs, focusing on play time and socialization with other dogs.
Midway Dog Academy offers a variety of program's to meet your dog's needs – we offer dog boarding, dog day care, rehabilitation, puppy preschool, and customized training that consist of behavior modification and problem-solving, and housebreaking training. We offer a variety of class sizes from private lessons to small group settings.
No matter what your dog training, puppy training, or dog boarding needs, Midway Dog Academy can meet it. In fact, upon successful completion of any of the programs, we offer continued support and life-time follow up guarantee. 
We also offer the following services:
Dog training Nashville, Nashville Dog Training, 
Puppy Training Nashville, Nashville Dog Training Classes
Dog Training and Behavior Problems

Biting

Growling

Stealing food

Stealing items

Snarling

Destroying household furniture

Having accidents in the house

Mouthy

Whining

Jumping on people or furniture

Running away

Fearful behavior

Anxious behavior

Aggressive behavior

Hyper behavior

Nervous Behavior

Shy or Timid

 How Your Dog Could Be

Confident

Calm energy

Relaxed

Be a stable pack member

Well socialized

Happy

Balanced

Obedient

Focused

Canine Good Citizen Trained

Companion Animal

Part of the family

Well- behaved

Approachable

Train in dog agility

Protection Training

Service Dog Training

Therapy Training

Great with kids
 We are now serving these ares in Tennessee:
Antioch   Arrington   Belle Meade   Brentwood   Chapel Hill   Forest Hills   Franklin   Hermitage   Madison   Manchester   Mount Juliet   Murfreesboro   Nashville   Nashville Suburbs   Nolensville   Old Hickory   Shelbyville   Smyrna   Tullahoma   Wartrace   Whites Creek