The Dog Trainers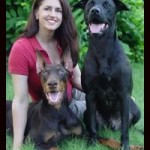 Krista Clements, grew up in La Crosse, WI where she was involved with training, breeding, and showing dogs from the age of 14. From 1998 to 2007 she worked as a veterinary assistant/technician. In 2000 she completed the master trainers course at National K-9 School for dog trainers in Columbus, OH. At that time she started her own business, teaching owners how to communicate properly with their dogs so they could enjoy their best friends to the fullest potential. She has also assisted in pet rescue – fostering, training, and adopting out unwanted or lost pets.
Today she lives in Nashville, TN where she independently owns  dog training business. She continues to offer training and behavioral modification for canine companions.
The love of her profession is demonstrated by her active involvement in the following organizations:
Member, National K9 Dog Trainers Association
       Member of Board of Directors, German Shepherd Rescue
  Professional Member (P-3171) IACP
These are the most popular dog breeds of 2005 according to numbers of American Kennel Club (AKC) registrations. Popularity has both advantages and disadvantages. Certain breeds are popular due to some combination of beauty and brains. All dogs can be trained, and training your dog in Tennessee will help you enjoy your puppy for many years to come. Does your dog appear?
Labrador Retrievers, Golden Retrievers, Yorkshire Terriers, German Shepherd Dogs, Beagles, Dachshunds, Boxers, Poodles, Shih Tzu, Miniature Schnauzers, Chihuahuas, Pugs, Bulldogs, Pomeranians, Cocker Spaniels, Rottweilers, Boston Terriers, Shetland Sheepdogs, Maltese, Pointers (German Shorthaired), Doberman Pinschers, Miniature Pinschers, Welsh Corgis (Pembroke), Great Danes, Siberian Huskies, Bichons Frises, Basset Hounds, Spaniels (English Springer), Weimaraners, Brittanys, Cavalier King Charles Spaniels, West Highland White Terriers, Mastiffs, Australian Shepherds, Papillons, Collies, St. Bernards, French Bulldogs, Lhasa Apsos, Scottish Terriers, Cairn Terriers, Bullmastiffs, Havanese, Vizslas, Chinese Shar-Pei, Newfoundlands, Bernese Mountain Dogs, Pekingese, Retrievers (Chesapeake Bay), Bloodhounds